For Immediate Release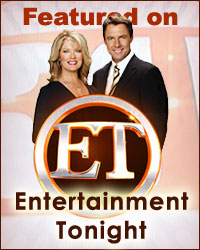 Baby models wanted. Think your Kid Has the Next Famous Baby Face? Entertainment Tonight's Mary Hart Tells All On How to Get Your kid In the Biz On a Budget with Commercial Kids
Hollywood CA – Does your child have what it takes to be a star? Entertainment Tonight's Mary Hart probed her audience with this question during a December 3rd package which highlighted Commercial Kids (www.CommercialKids.com) as a reputable no fee talent service that helps place your kids in front of the camera and onto the big screen. Commercial Kids was mentioned exclusively during this piece, and pointed out by Hart as an alternative that will, Help you avoid the rip offs. A screen-shot of the site's homepage dazzled the screen while Hart reported with enthusiasm on the legitimacy of this reputable service.
We were beyond delighted after finding out that we would be the only agency featured during the Entertainment Tonight piece said Steven Green, co-founder of CommercialKids.com. We take great pride in our service of landing children roles and talent agents in modeling, acting, commercials, TV movies, and being recognized for the legitimacy of our business by such a reputable program as Entertainment Tonight has been an honor for us
Most unlicensed talent agencies will empty your wallet and never get you a job or even an audition, but using Commercial Kids lists you will always find every talent agent, casting director and talent manager to be licensed and legitimate and will never charge you upfront fees. They earn 10-15% commission on work they get you after your child has been paid for the job. Baby models wanted nationwide.
Today, when it comes to commercials, kids sell Hart explained during her piece. And this market for youth will always need fresh new faces, which is what continues to keep CommercialKids.com very busy. Baby models wanted now.
About Commercial Kids
Founded in 1992, www.CommercialKids.com has since been providing the most up-to-date contact information of legitimate, state-licensed, children's talent agents, baby modeling agents, kids commercial agents, children's casting directors, child music agents, kids managers, child dance agents and Kids open casting calls and children's auditions