Kids Auditions

Starter Kits

Star Testimonials

Free Casting News

Audition Tips

Lists Labels DVD's

Coming Soon
Children's Agents . Teens Agents
Baby's Agents
Newborns to 18 Years Old
Acting . Modeling . Music . Dance . Performance Art . Fashion
Nobody can guarantee your child will be a star. What we can guarantee is that we will make the process much easier by saving you time, money and from being ripped off. For starters we do all of the research to provide you the best and most up to date list of legitimate licensed agents that will never charge up front fees. They earn 10%-20% commission on jobs they book for your child after your child has been paid for the job!
Good Agents vs Bad Agents

Every day someone calls us and asks "how do I know which agents are good and which are not?" All agents on our list are great. They are all licensed, legitimate and experienced. Whether they are good for you and your child is up to you. Its all about the relationship you build with the agency. Using our lists puts you are years ahead of the competition. Most people don't even know how to go about researching if an agent is licensed or legitimate. Our list guarantees it!.

Getting an agent is easy as 1, 2, 3,

1. Make copies of a recent 3x5 or 4x6 photo.

2. On back put child's name, age and contact number

3. Mail or e-mail photo's to children's agents on our lists. The more you mail, the better your chances of landing the agent best for you. Using our email list saves you money on postage and envelopes.


Try to schedule many agent interviews. The best agent is the one that is most excited about your child. This enthusiasm will last as long as you do your part, and of course as you start booking jobs. Agents work incredibly hard, most of what they do you won't even see on a daily basis. If you are available for auditions, you will keep getting them. If your child is too busy for auditions you can trust the agent will work harder for those that are available, on time and book jobs. An agents paycheck depends on getting your child jobs. They only accept kids they really believe will make them rich. Wouldn't you? They work harder for kids and parents that are professional and get results. You will know within six to twelve months if you are with the best agency for you. If not, start interviewing with others or before jumping ship, ask your agent "what can I do to help you? or Is there something else we can do to get better results. There are no bad agents on our lists, but there are relationships that don't work.

I was a child actor from age 2 to 13. I have been a working adult actor/model for 30+ years, since I was 22. I believe my success comes from my look, my drive, my talent that I keep trying to make better and most of all my work ethic. It is my personal belief that since my agent gets 10% they should do 10% of the work. I get 90%, so I do 90% of the work. Instead of calling my agents when it's slow and pester them asking "why am I not getting auditions?" I ask "is there something I can do to help you get me auditions?" Or I do a postcard mailing to casting directors and get my own auditions. The result of my work ethic: I have been with my commercial agents for 25 years, my print model agents 21 years, and my TV Film agents for 19 years and 11 years. I changed agents only because they retired. Steve Tyler (actor/model)

Agents work hard to earn commission. Here are a few things they do for your child on a daily basis:

understand and enforce child labor laws to protect your child

ensure your child is taken care of both on a set and at auditions

maintain their license to legally procure work for your child

build and maintain relationships with

casting to get your child jobs
submit your child's photo to casting on a daily basis

understand child work permits

and how to obtain them

share experience on photos, resumes

, workshops, classes

have insight on marketing your child

experienced and licensed to negotiate deals and contracts

schedule auditions, callbacks and work/school schedules

get you scripts and audition materials in advance so your child can focus on doing the best audition.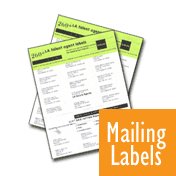 (4) FORMATS AGENT LISTS

hard copy lists (in label format)
preprinted mailing labels (30 per sheet)
electronic email lists (spreadsheet)
hard copy email lists (listings)

ALL NEW! EMAIL LISTS -

SAVE HUNDREDS $$$ ON ENVELOPES, PHOTOS, POSTAGE AND STATIONARY

(6) AGENT LISTINGS

child acting agents (tv, film, stage, internet)
child commercial agents (tv commercials and industrials)
child modeling agents (print ads, fashion shows)
child music agents and managers (albums, concerts, etc)
child dance agents (all media's)
child voice agents (radio, tv, film, internet, cartoons)

(3) CASTING/PRODUCER LISTS

casting directors for commercials and print modeling
casting directors for tv movies
producers, studios and production companies

(50) STATES AND (2) COUNTRIES

United States/Puerto RIco
Canada

Kids Talent Agents now represent kids in all cities. No matter where you live, kids agents around the country are seeking children from everywhere for representation in TV Commercials, Feature Films, Print Ads, TV Shows

TIP! Get best results mailing to Casting Directors and Producers on our list. Parents rarely think of this and those that do get great results

Children's Agents and Managers

Only used a licensed children's talent agent and there are 750+ throughout the United States. A licensed children's talent agent has signed contracts to be licensed by the State and usually union and they adhere to terms and conditions set by the Union, child labor laws and the State in which they reside..

Although children's agents primarily get kids auditions and jobs for child actors and child models, they usually bring much more to the table. They ensure child models, child actors and all child performers work under safe conditions. They assist the Unions following contracts and help parents understand obligations regarding child's acting and child modeling jobs. That's a big reason actors thank their talent agents in acceptance speeches at awards shows. The best children's agents are also a friend and partner to you and your child.

Exclusive and Non-Exclusive

In some cities and States, exclusivity of child talent representation is customary; in other cities and States child talent may be represented by several child talent agents. This is known as freelancing or hip-pocketing, and the child talent agent that gets your child the audition or job is the one who receives the commission. Ask children's agents during your first meeting if they want exclusivity. New York children's agents are open to non-exclusive whereas Los Angeles children's agents are almost always exclusive. Each area is different and changing, especially since children's agents now represent child talent in various cities and States, often partnering with other child talent agents around the country to best serve their clients.

Agents/Managers aka Personal Managers

Many child actors also have a talent manager in addition to a children's agent. Here are basic job descriptions:

Children's Talent Agents

Should be franchised by one of the unions
Is licensed by the state as an employment agency
Focuses on getting your child employment and negotiating kids contracts.
Has a small or large amount of clients depending on agency
Charges 10% commission on Union TV, Film and TV Commercial projects and 15-20% on non-union projects

Children's Modeling Agents

There are no unions for models
Modeling agencies are licensed by each state as an employment agency
Focus on getting your child modeling jobs and negotiating child model contracts.
Has a small or large amount of baby models and child models depending on agency, market and time of year
Charges 20% commission on print jobs and 15% commission on non-union commercials

Children's Managers

Are not licensed by the State and are not franchised by Unions.
Provide advice and guidance on careers
Help child get a great child talent agent to work in partnership
Help your child's agent get auditions and jobs (In NY and CA, they are not permitted to obtain employment without working with a licensed agent).
Usually have a small amount of child clients
Usually charge 15% commission (negotiated at the beginning of your partnership)
It's a good idea to have a lawyer review a managers contract before signing. Since they are not franchised, and don't have to be regulated, it's important to understand all terms of the agreement.
Managers are not allowed by law to negotiate deals, they must hire an attorney or agent to do that for you.

Complete Kits! - On Sale!

Use Commercial Kids Mailing Labels To

Promote Your Business
Advertise your products
Promote your services
Advertise an upcoming play or show
Send Holiday Cards
Promote a Contest